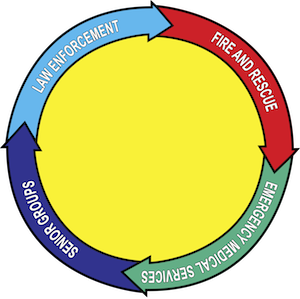 The YELLOW DOT PROGRAM is the first of its kind in the State of Alabama. The program offers participants a way to give vital information to first responders in the event they are unable to physically or verbally communicate. It is a FREE service provided to individuals of all ages; however, it was created to help crash victims, especially seniors, communicate with rescuers during the crucial "golden hour." The first 60 minutes after a serious crash can make the difference between life and death for the critically injured.
Participants of the program will have their picture taken, complete a personal information form in pencil and will be given a Yellow Dot folder and decal. All of the vital information will be placed into the folder and then into the glove box of their car.
The YELLOW DOT decal will be placed in the lower left corner of the rear window of the participant's car. The decal alerts first responders that medical information can be found in the glove compartment. If you sell your car, please remove the Yellow Dot sticker.
To sign up for the program, visit either Talladega Fire Rescue, Talladega County Sheriff's offices in Talladega or Sylacauga, or the Lincoln, Childersburg, or Sylacauga fire departments.
To schedule a YELLOW DOT representative at your event in the City of Talladega, or register for a YELLOW DOT KIT you may contact Sandra Moorer-Beavers, (256) 362-3149 or to contact by email smbeavers@talladega.com
http://adeca.alabama.gov/Divisions/lets/TrafficSafety/YellowDot/Pages/default.aspx